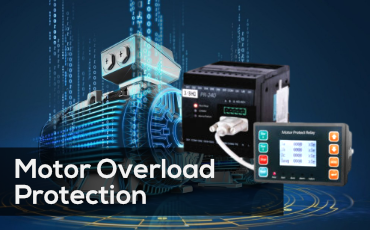 Motor Overload Protection – Development, Composition & Function
Motor Overload Protection is very useful in industry. What do you know about? This article will introduce you the Development, Composition & Function of Motor Overload Protection.
Development of Motor Overload Protection Device
Thermal relay
Thermal relay is a traditional motor protection device, which uses bimetal strips with different thermal expansion coefficients to achieve inverse time protection. It is characterized by simple structure and low price, but it also has disadvantages such as poor stability, poor weight and single protection function.
Electronic motor protection device
With the continuous development of electronic technology, electronic motor protection relays came into being. From the initial solid-state relays of analog circuits to the later intelligent relays of digital circuits, especially the development of microprocessors, motor protectors have been realized. Measurement, protection and control functions in one. By collecting current, voltage, frequency and thermal resistance signals, it can realize various protection functions such as short circuit, overload, locked rotor, overtime start, grounding, phase loss or unbalance protection, and can meet various starting control methods.
Intelligent Motor Protection device
With the development of microcomputer communication technology and network technology, the intelligent motor protection relay has added a communication module. Through two-way communication and networking technology, it can not only collect data, monitor the running status online, but also realize remote control. Especially the application of fieldbus network communication simplifies the network structure and greatly reduces the use of control cables.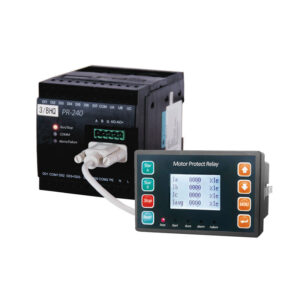 Composition & function of intelligent motor overload protection device
Composition of intelligent motor protection device
The intelligent motor protection device is composed of a main module and a display module. The main module includes a power supply module, a digital signal processor, a digital input and output module, an analog acquisition module, a communication module, etc.; the display module is responsible for displaying operating parameters and setting of protection setting values.
If the main module and the display module are integrated, it is called an integrated intelligent motor protector; if they are separated, it is called a split type intelligent motor protector. The measurement modules of some intelligent motor protectors are also independent from the main body.
Functions of intelligent motor protection device
The intelligent motor protection device collects and processes the current and voltage signals of the motor circuit through the microprocessor, and determines whether the motor starts or stops according to the remote control command or local control command. Although the product names and models of different brands are different, their core functions are basically the same, as follows:
1) Protection function. Including overload, phase failure, locked rotor, start timeout, single phase grounding, short circuit, external fault, under current, under voltage, over voltage protection and temperature protection etc.
2) Measurement function. It can measure phase current, phase voltage, line voltage, zero sequence current, active power, reactive power, power factor, frequency and phase angle, etc.
3) Measurement function. It can measure active energy and reactive energy.
4) Control function. With multiple digital output ports, it can realize direct start, two-way motion, two-speed start and star-delta step-down start of the motor, etc.
5) Management function. Including motor cumulative running time records, motor cumulative starting times and starting time records, fault action records and motor starting reports.
6) Information collection function. Equipped with multiple digital input interfaces and analog input interfaces, it can collect various electrical status digital signals related to the motor (circuit breaker status, contactor status, and control commands) and analog signals for motor winding temperature measurement.
7) Communication function. It can be equipped with a variety of communication interfaces, such as Modbus, Profibus-DP, DeviceNet and Ethnet-IP, etc., which can realize remote start and stop control and status feedback.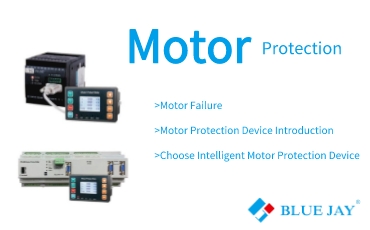 A motor protection system is a group of protection
Read More »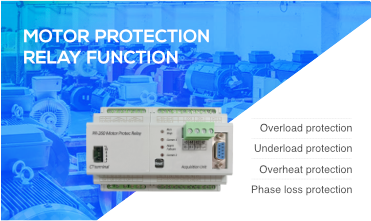 The motor protection relay can provide all-around protection for
Read More »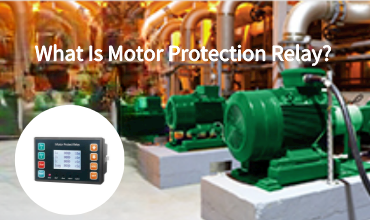 The motor protection relay is an electrical device used
Read More »