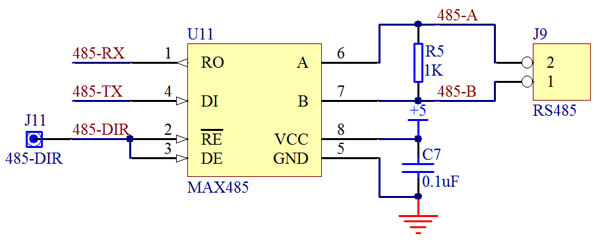 What Is RS485 Communication Protocol?
RS485 communication protocol plays a vital role in modern society, especially in industry and automation. Among them, the RS485 communication protocol is a protocol that has attracted much attention because of its wide application in industrial environments. This article will introduce the basic concepts, characteristics, application fields and maintenance of RS485 system of RS485 communication protocol.
Definition of RS485 communication protocol
The RS485 communication protocol is a multipoint communication protocol that allows multiple devices to communicate on the same bus, and each device can send and receive data. The RS 485 protocol communication uses differential signal transmission, which has the characteristics of high speed, long distance, and strong reliability, and can realize long-distance data transmission.
RS485 communication protocol Features
Strong anti-interference: RS485 uses a combination of balanced drivers and differential receivers, which has anti-common mode interference capabilities and can resist external interference to ensure the stability of communication.
Long transmission distance: The maximum communication distance of RS485 is about 1219 meters, and the maximum transmission rate is 10Mbps. The transmission rate is inversely proportional to the transmission distance, and stable data transmission can be carried out over a longer distance.
High communication rate: The maximum data transmission rate of RS485 is 10Mbps, which is much faster than the traditional serial communication protocol and can meet the needs of high-speed data transmission.
Supports multi-device connection: RS485 adopts a bus topology, allowing multiple devices to share the same communication line, facilitating interconnection between devices.
Application areas of RS485 communication protocol
Industrial automation and control systems
The field of industrial automation is one of the main application fields of RS485 communication protocol. In factories and production environments, various sensors, actuators, controllers and instruments need to communicate with each other to achieve automated control and data collection. RS485 provides a reliable communication method to meet the needs of industrial automation systems. For example, on a production line, a temperature sensor can communicate with a PLC using RS485 to monitor and control the temperature in real time, thereby ensuring production quality and efficiency. Besides, many energy meters adopts RS485 communication protocol.
Building Automation and HVAC Control
In the field of building automation, RS485 communication protocol is widely used in building control systems, such as lighting control, HVAC control, security systems, etc. Through rs485 protocol, equipment on different floors and rooms can be managed centrally. For example, large commercial buildings can use RS485 to control lighting and air conditioning systems to achieve energy saving and comfort control. Building automation systems require reliable communication to meet the needs of collaborative work and remote monitoring between different devices.
RS485 protocol in automotive systems
The automotive industry also adopts the RS485 communication protocol for vehicle internal communication systems. Modern cars contain a large number of electronic control units (ECUs) that need to communicate with each other to implement various functions of the vehicle, such as engine management, safety systems, entertainment systems, etc. RS485 can effectively support data transmission between these ECUs to ensure normal operation of the vehicle. In addition, RS485 is used to connect automotive diagnostic tools to help technicians detect and repair vehicle faults.
Hardware components and connections
To implement RS485 communication, you first need suitable hardware components. This includes RS485 converters, terminating resistors, and cables. The RS485 converter is used to convert common serial data into RS485 differential signals, and the terminal resistor is used to terminate signal transmission on the bus and reduce signal reflection. Cable selection is also very important and needs to meet the requirements of RS485, including proper shielding and transmission rate.
Software considerations
In addition to hardware components, software settings also need to be configured correctly. Communication devices must use the same communication protocol, baud rate, data bits, stop bits and other parameters to ensure that data can be transmitted accurately. In addition, the frame structure and verification method of data also need to be coordinated to avoid data errors.
The RS485 communication protocol plays a key role in the industrial and automation fields, and its anti-interference performance, multi-device connectivity and long-distance communication capabilities make it a reliable communication option. Proper implementation and maintenance of an RS485 system is critical to ensuring system stability, while effective troubleshooting methods can resolve common problems and ensure the system continues to operate efficiently. The RS485 communication protocol will continue to play an important role in industrial automation, building automation and automotive fields.