The electrical measurement device is a broad term. As you know, multi-meter, installation-type instruments belong to electrical measurement devices. This article will tell you the energy meter parameters to help you choose digital energy meters.
Types of digital energy meters
Well, digital energy meters, according to the function, can divide as follows: Voltage meter, Current meter, Active (Reactive) power meter, Frequency meter, Power Factor meter, etc, including the all-in-one function type, called intelligent multi-meter.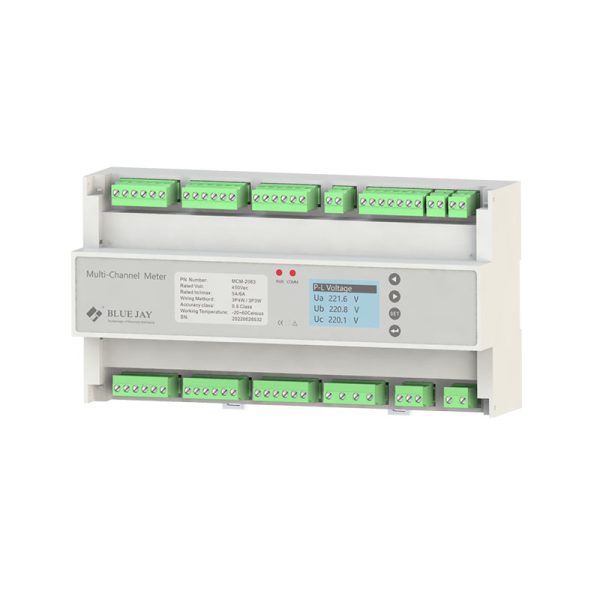 Energy meter parameters – Instrument accuracy
Electrical measurement devices include 7 classics: 0.1, 0.2, 0.5, 1.0, 1.5, 2.5, and 5.0. The best energy meter reaches class 0.2 at Blue Jay. Digital meters and analog meters are one of the best electrical measurement devices at Blue Jay. A digital meter is known for its precise reading and high accuracy. The strengths of the analog meter, according to the motion of the pointer, we can know the change trend and scope. Besides, our company, specializing in "power control, power protection automation" equipment, is a first-class energy meter manufacturer in China. We offer intelligent digital meters for energy saving and eco-friendly. Thus, you can get the high accuracy meter at Blue Jay.
The level refers to the error percentage of the electrical measurement devices when it comes to full range.
For example, the accuracy of the 193I-9X4 three-phase current meter manufactured by Blue Jay is 0.5 with an input current of 5A. That is to say, when this current meter measures the full range current of 5A, the maximum error percentage won't be 0.5.
Another way to discuss device accuracy is called uncertainty level. We'll talk about it next time.
Energy meter parameters – Power supply
Generally talking, the power supply can divide into three types, transformer power supply, switch power supply, and battery.
Transformer power supply: Strong anti-interference ability and anti-harmonic, but solo input voltage classic that DC is not available
Switch power supply: Wide input voltage range 70~250v Poor anti-interference ability, especially in heavy harmonic places like steel plant
Energy meter parameters – Input measurement signals
The accuracy of DC is far higher than AC.
The truly effective and average value
The multi-meter shows the average digital power parameters in a very short period of time.
Installation type meters precisely display power parameters digitally in real-time, having the characteristics of strong anti-interference ability anti-harmonic, and frequency variation.
Energy meter parameters – Optional functions
There are some optional functions, besides the general measurements.
Communication function: Supporting RS485 and MODU BUS protocol
Analog output function: 4~20mA
Control function: When the voltage is overloaded to set value, the meter can alarm by relay output.
Energy meter parameters – C/T ratio setting
The full range of the current meter can be set based on the installation transformer. And the setting value is any one of 5A~8000A according to our country standard.
Energy meter parameters – Respond to speed
Digital meters generally adopt specialized chips giving consideration to multi-functions and response time is slowed down. Only 3 ~ 5 digitals are available in one second.
Our company, Blue Jay Electronic digital meters can show 50 digitals in one second with high precision and strong stability. The response speed is quite fast for customer satisfaction.
Energy meter parameters – Other frequency meters
What we talked about above is all about meters of frequency 50 Hz.
But there are some other frequency meters for special field applications. Digital meters of frequency 40 Hz are for aeronautical applications, and meters of frequency 20 Hz are for super audio power and transformer output current.
Blue Jay Electronic can satisfy customers' needs by manufacturing different frequencies of digital energy meters.
Energy meter parameters – Digital monitor software
When using digital meters with RS485 communication, the customer generally needs a digital monitor programmed manual.
At last, thank you for reading.